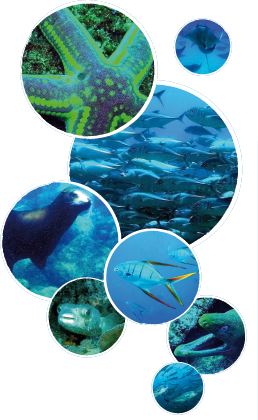 About Cabo Pulmo
Where on Earth is Cabo Pulmo…?
Cabo Pulmo is a small hamlet in Baja California Sur, located exactly on the Tropic of Cancer. A community far from crowds of people and close to nature.You will find it on the coast of the Sea of Cortez, about one hour and a half drive north of Cabo San Lucas and two and a half south of La Paz.
Here, where the desert meets the water, we share our lives with lots of birds, animals and sea life. It's an ecological wonderland, between the hills and the sea, between whales and sea lions, among cactus, coyotes and road runners and a trillion birds… Here we live without electricity or telephone (or lines and cables to clutter your view!!) and without smoothly paved roads.
We live our lives, in peace and in harmony with nature's rhythm inviting you to join us!
…how to get to this paradise…
Easiest would be to fly into Los Cabos International Airport (San Jose del Cabo)and rent a car or get a taxi. The approximate driving time from the airport to Cabo Pulmo is about 90 minutes.
Leaving the airport, follow the signs to La Paz, going north, taking the M1 'highway'. Drive until you reach km point 92, at Las Cuevas. Here you turn right, just before a long bridge, following a little blue sign pointing to your right towards the Cabo Pulmo Marine Park.
Passing Santa Cruz (watch out for speed bumps or 'topes'!) you head for La Ribera, where you turn right (south) again, just before the sports park. Here's your last possibility to do some shopping and fill up your gas tank. Follow this road and don't worry if the pavement stops; you're almost here, just about 6 miles of bumpy road left before reaching paradise! In Cabo Pulmo follow the signs directing you to Cabo Pulmo Divers –or just follow the road all the way to the beach. You'll find the shop on the left, about 200 yards before you reach the water.
Now, relax, stretch a bit, time to enjoy; you've made it to the real Baja…
You also have the option to fly into La Paz, leaving the airport direction south towards Los Cabos. After Los Barriles and Buena Vista you'll cross a long bridge (Puente Las Cuevas). At the end of it you have to turn left towards La Ribera… Expect a two and one half to three hour, but beautiful drive to Cabo Pulmo.
What to do in Cabo Pulmo
Clearly
diving and snorkeling…
with Cabo Pulmo Diving,of course!
But there´s a lot more to do; together with other Cabo Pulmo outfitters we offer:
Kayak and Stand-up Paddle…
Another way to enjoy the turquoise waters in the bay. Paddle out to secluded beaches, along incredible rock formations. Get in the water and snorkel the beautiful reef, visit the sea lion colony or just relax paddling into the sunset…
Hiking & Biking…
The surroundings of Cabo Pulmo are wild; you can be hiking or biking for hours and hours, over trails crossing the desert or following the coast line, some are difficult, some are steep, some are for all levels and some are not…
Wave and Wind Surfing…
Cabo Pulmo is close to some of the best beaches in Baja for surfing the waves:
Las Dunas (the Dunes) and Nueve Palmas (Nine Palms). From Los Barriles to Las Barracas you´ll find very good conditions –especially in winter season- for body boarding, wind and kite surfing… The famous and international 'Lord of the Winds' competition in held in February in Los Barriles!
Dining and wining…
Cabo Pulmo houses several restaurants and bars; from north to south you pass'Tito's bar' (great value buffet on Saturday nights), followed by the famous'El Caballero' (good Mexican food, breakfast, lunch and dinner). Turning left here (towards the sea), you'll find Nancy's for lunch and dinner. Further to the center the 'Coral Reef Restaurant' (international cuisine for lunch and dinner) and at the end of the road, next to the sea, 'La Palapa', Mexican sea food for lunch and dinner. Alicia's kitchen in the corner prepares the best take away Mexican food you can imagine!
Our spectacular nightlife…
Cabo Pulmo is not polluted; the nights are still pitch black; only some street lights, no neon or loud music, just a few bars and restaurants,all closing at Pulmo's 'midnight' (10 pm), ideal for star gazing!
Only, but rarely, clouds (or a full moon) can spoil the fun here.
Cabo Pulmo is close to ancient caves with primitive 'graffiti' telling aboutBaja's history, close to hot springs and waterfalls, close to an oasis in the desert…
…and even more!
Horseback riding, sunbathing, reading a good book (library at Nancy's), bird watching, visit old ranchos where the time never moved… Day trips to an old gold miners village, excursion to Buena Fortuna's ecological gardens…
How it all started!
The Sea of Cortez or Gulf of California, was formed over 5 million years ago. The Andreas fault slowly moved Baja California away from the mainland of Mexico. Now the sea is about700 miles long and 100 miles wide, with sub-marine canyons over 12.000 feet deep. The canyons are still extruding magma, slowly filling up the gap and creating new sea bedding.
The winds from the northwest in winter and from the southeast in summer bringin currents and nutrition from all directions. The mountains of the peninsula keep clouds on a distance. Its rain water runs towards the sea. The absence of clouds allows the sun to grow plankton abundantly. Plankton is the base of thefood chain, stimulated in its growth by the bird (-shit) colonies (pelicans, gulls, cormorants etc.). Plankton is food for sardines, krill, anchovies etc, in turn eatenby dolphins, whales, sea lions, game fish and, again, birds. It's a delicate ecological system providing waters full of life, providing beautiful scenery's for snorkeling and diving, kayaking and also hiking or biking.
Since June 5th of 1995 the Mexican government established the Cabo Pulmo National Marine Park, managed by 'Conamp' (National Ecological Institute and Environmental Protection Agency) and protected by La Armada de Mexico(the Mexican navy).
Jacques Cousteau called the Sea of Cortez "the Aquarium of the World" because of the vast number of wildlife species in these waters. Today we (Henri and Pilu) would like to take you to the heart of some of the richest reefs on the Pacific Coast and on some of the best dives ever…
We are guests in the park and in the Sea of Cortez. During all our activities we will respect animals, plants, sea-life, corals etc. We will take nothing but pictures and leave nothing but bubbles…
Accommodation
For accommodation we refer to the links in this page and to Cabo Pulmo Lodging, rentals we manage; every rental has its own standards, luxury and pricing. And if we refer them it's because they are good! These casitas are all privately owned, ecological (with solar power, gas and running water and reusing it for gardens) and comfortable, amazingly comfortable for in this wilderness. Even (solar) air conditioned for the hot summer months!!!
Welcome to Paradise!