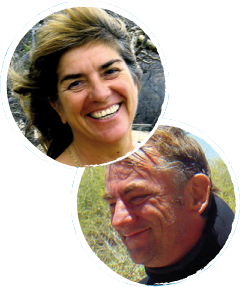 Nice to meet you
We are Pilu and Henri
both PADI instructors. Pilu is Spanish, dives since 1990 and Henri is Dutch, diving since 1983. In February 2007, we came over to Cabo Pulmo in Mexico, to work here for seven months… We forgot to leave.
After two years running a 'fast track dive center', we're now working from our little 'boutique corner'. Since 2009, we're diving the way we like it, small groups, plenty of time for each of our guests. Our aim is to create a safe, fun and relaxed atmosphere, giving everyone the best time of their holidays, the most exclusive attention and the best service, under and above the water!!!
Beautiful dives on the only live reef in the Sea of Cortez, a reef full of surprises; every day is different.Not always easy, but always spectacular. The reef is shallow, hiding lots of life; big and small fish in huge schools or solitary, from nudibranches to sharks, from puffer fish to enormous schools of manta rays.
We found the diving here so sensational, that those seven months have become ten years, and we're counting… Pilu & Henri; at your service in Cabo Pulmo!
Pilu & Henri can offer you
All recreational scuba diving activities: fun dives for certified divers, all PADI courses, from beginner diver (Discover Scuba Diving, or the 'resort course') to professional level of Assistant Instructor. Get the theory out of the way at home, with PADI e-learning and keep the 'fun' part for your holidays!
Diving with us is diving with the most experienced guides on the reefs, the best captains in the boat following our bubbles; with us you'll avoid drops in the sand and tiring swims against the current. Diving with us is diving with 'locals': we know the reef like our pockets, every rock, every corner; our captains grew up on the reef and have years of experience navigating these waters.
We do real'Baja fun' dives in small groups(maximum 6 divers) from typical boats ('pangas'), equipped with medic first aid and oxygen administering kits; with all staff trained in reef awareness, O2 administering and medic first aid. We are members of DAN (Divers Alert Network), holding professional insurance for diving and diving related accidents…and conservation, always!
We, both Pilu & Henri, organize all our activities in harmony with nature, respecting and following the rules set by the national marine park authorities as well as by our own standards. We are engaged in conservation programs for the wet Cabo Pulmo Reef andthe dry surrounding desert.