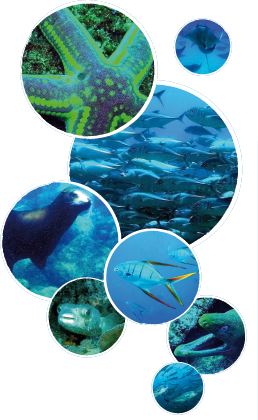 Nuestro suculento menú
Cabo Pulmo National Marine Park counts three bays; from North to South we have 'Las Barracas', 'Cabo Pulmo' and 'Los Frailes'.
We dive mainly in front of our door, in Cabo Pulmo bay. The main coral reefs are here, hiding enormous amounts of marine life; we reach them in less than 15 minutes by boat! In winter it is unprotected from the sometimes (too) strong northern wind, so we go to dive in the protected bay of 'Los Frailes'.
All dives are off the boat (back roll entrance) with a straight decent without lines, regularly with (sometimes strong) currents. In summer all's great: the visibility (50 to 100 feet or 15 to 30 meters) and temperature (up to 90+ °F or 32+ °C). In winter both drop: 65 °F (15 °C) is the temperature and a visibility as low as 20 feet or 6-7 meters…
Our dive sites…
The reefs of Cabo Pulmo…
Definitely our favorite site is 'el Bajo de los Meros': the 'flagship' of the reef.A dive to 50 feet on ½ mile short and maybe 100 feet wide reef surrounded by sand; so we have to go slow, especially with currents. A dive for experienced divers…
(In summer spectacular for its hard and soft corals, the amounts of leopard-grouper (1 in every 1000 is golden!), yellow tail snapper, dog snapper, pork fish and burrito grunt in big schools, even puffer fish are schooling while porcupine, jacks and morish idol tend to go more in couples. The moray eels (zebra, spotted and of course the fat green ones) are all over the place and the garden eels, well, they're in the sand…
This reef in winter shows reproducing stingrays in the sand, while the cownose rays swim by in schools, being overtaken by the thousands of mobulas, a smaller kind of manta ray. The water is 'boiling' with their activity; they are jumping out of the water and slapping back again. Guitarfish take no notice of anything… The jacks are no longer in couples but pass by as a huge and dark thunder cloud, trying to stay away from sea lions' jaws.Being a reef close to a sub-marine canyon, some whales might entertain you during a surface interval, or sing for you during your dive. Hundreds of dolphins swimming by and every now and then there's a turtle completing the scenery; green turtles, leather backs and the extinction threatened hawksbill. In May and June you might even swim with the biggest fish of all, the impressive, beautiful, whale shark, just minding its own business.)
As a continuation to this reef, towards the north, you'll find 'Los Morros'. It has the same depth as El Bajo, 50 feet, normally a bit colder water (closer to the canyon) and its length is approximately ¼ of a mile. Sometimes with strong currents and low visibility, but full of surprises and a beauty for experienced divers.Henri's favorite site.
(Los Moros has patches of reef, separated by sand, full of garden eels and in winter with all kind of rays, 'storms' of jacks, lots of grouper, also the enormous goliath grouper (before known as jew fish). Of course reef fish like the king angel, the surgeon fish, (bumphead) parrot fish, green moray eels all over the place.
In summer it's full of snapper, goatfish and jacks; in winter it's even fuller; we've done several entire dives inside a school of jacks… In winter, it requires a bit of navigation. If there's a lot of current it's a dive to 'cross over' to El Bajo and do the two sites in one goooooooo…….)
In 'El Cantil', divers of all levels can enjoy the reef, with its shallow part at only 20 feet and the deepest at 50 feet. A long stretched reef that ends up in the beach, maybe 2 miles long and up to 200 feet wide. Because it is so shallow, currents may greatly affect the visibility. A dive for all certification levels. The shallow part of this reef can be enjoyed by beginner divers.
(The shallow top is full of hard elegant coral, hiding wrasse and cleaned by parrot fish. To the west, the 'roof' is cracked and shows lots of canyons, tunnels, some ending in sand, inhabited by garden eels and conch slowly passing by. The cracks hide green moray eels, nudibranches, reef fish,quite a lot of sea urchins and some crown of thorns. To the north it becomes deeper and flatter and you'll be amazed by the size of dog snapper and the amount of yellow snapper, graybar grunts and goat fish. Depending on the current, the jacks sometimes move their activity to 'El Cantil' and we regularly spot amber jacks and reef sharks.)
Between 'El Bajo' and 'El Cantil' we can do a wreck dive on 'El Vencedor',a tuna trawler that sunk in the early eighties after hitting the reef, becoming an artificial reef surrounded by sand and… sharks! A site for advanced divers.
(Since a few years ago, it's become home to bull sharks, swimming peacefully around, and two huge resident schools of yellow snapper and graybar grunt. Here we see schools of hundreds of puffer fish (!) and huge moray eels and thousands of garden eels. In October and November the sardine-track changes this dive site into a fish soup. Especially with clear waters without current it's an ideal site on 40-45 feet, in small groups.)
Further to the south we dive 'La Esperanza'. A bit deeper, to 70 feet maximum, less coral, less visibility, less currents, but a very beautiful scenery. Pilu calls it 'double or nothing'. Advanced divers only…
(Anything can happen; you might be spotting bull jacks, golden trevally, dolphins, tuna and huge amber jack, hunting dog snapper and also lots of hiding fish. Or you can just enjoy the landscape…)
If we keep going south, 'Mario's Reef' or 'Cien pies' (' Hundred Feet') is our next site, reserved for the big fish. We might call it 'a deep gamble'… Also a dive for experienced divers.
(Guess what, 100 feet, where the water turns dark, because the lack of light. No light also means less coral, but bigger fish have made it their home: from dog snapper, huge grouper to nurse and bull sharks. This is a dive that can be spectacular, but also might turn out to be just cold and dark and without that much to see.)
'El Islote' is the dive site for which no landmarks or GPS is needed; it's a small rock island offering a spectacular amount of fan corals, gorgonian and hard corals. It is one of the few dive sites with a wall, so your dive doesn't stop at depth. It's bottom at 60 feet, makes it suitable for all certified divers.
(The coral covered walls give a hiding place to spiny lobster, little sea spiders and crab fish. On the bottom big boulders are spread around, giving great shelter to all kind of life. Here you see snapper, grouper, pompano, cornet fish, turtle (hawksbill), scorpion fish and when the sardine track hits the island, also big eye and amber jacks. On the sandy bottom, we regularly see bull sharks in numbers.You can make a safety stop as part of your dive, while observing the most beautiful wall, full of coral surrounded by gaftopsail pompanos and creole fish.)
A place comparable to 'El Islote' is 'Las Casitas', several rocks, some just barely staying under water, with caves and 'look throughs', too small to swim through. To 40 feet, so for all levels, also as an extra dive after a resort course (Discover Scuba Diving)!
(Also here you'll find the hard and soft coral covering the rock surface, giving shelter to lots of life, a turtle, laying down calm and relaxed in its cave. The site can be reached from 'Mermaid Beach' if the current lets you. Again another super dive in summer with good visibility.)
Let's talk Mermaid Beach ( 'Playa La Sirenita') or better 'Los Chopitos'; this is a baysheltered from wind and waves where we take our students for their first dive and refresher courses, because it offers an easy entering, with a depth of 2 to 20 feet. All levels, but mainly for courses and DSD's
(A perfect place for courses and refresher courses to start scuba diving (again). For if you haven't dived a long time or if you're not comfortable going straight down yet on the reef itself. Not a second choice, just easier and safer. Hard to see anywhere else are the octopus and relaxed snapper that are here very easy to approach. Depth from 2 feet slowly going down to 40… Here you can dive while your family or friends are snorkeling above you or just chilling out on the beach.)
Going south, just before 'Los Frailes', the next bay, we have a steady growingSea Lion Colony, 'La Lobera'. Starting at the surface, following the rocks to a maximum depth of 60 feet, this is always literally a fun-dive, that fits all level of divers.
(Watching the sea lions playing together, or showing off, or blowing bubbles back at you is really great fun. In May and June the newborns are trying to play with you while the moms are trying to prevent that from happening: the bulls don't seem to care at all… They're behaving almost human. The mammals are often blamed for chasing away the fish for fishermen, but here you see the proof of this being a mistake. Loads of fish hanging out around the rocks where the colony holds residence, from surgeon fish and mackerel to eagle rays and barracuda. A playful dive for all levels except from August till beginning of October: only 2 or 3 older sea lions are left, while the rest of the colony hides for the hurricane season in the sheltered bay of La Paz up north…)
'Los Frailes' is mainly but not only a winter destination.We go here when we cannot go out in the bay of Cabo Pulmo because of strong northern winter winds. This bay is perfectly sheltered and has great dive sites.
('El Rincon' goes down to 50 feet with a small reef going out from the corner of the bay. Depth to 60 feet, suited for all levels.)
(From the same corner you can go in a different direction following 'Pargo's Reef', Pargo not being Spanish for snapper, but the nickname of one of the local captains, who discovered it. Also to 60 feet)
(A bit further, south of the bay there is 'El Bledito', a very special reef just on the side of yet another canyon, so regularly sharks are spotted… This site has a depth of 50 feet and lots of light!)
(Finally, we have 'El cañion de los Frailes'; wecannot tell you how deep it goes. We normally stop at 130 feet. The landscape is really impressive, and we often spot different kinds of sharks, especially nurse and white tip.)