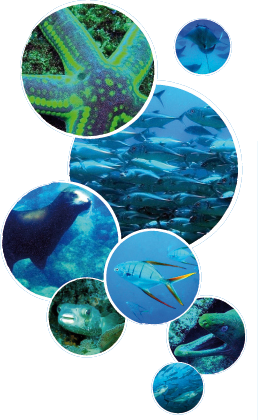 Our gourmet Diving menu
Cabo Pulmo National Marine Park counts three bays; from North to South we have 'Las Barracas', 'Cabo Pulmo' and 'Los Frailes'.
We dive mainly in front of our door, in Cabo Pulmo bay. The main coral reefs are here, hiding enormous amounts of marine life; we reach them in less than 15 minutes by boat! In winter it is unprotected from the sometimes (too) strong northern wind, so we go to dive in the protected bay of 'Los Frailes'.
All dives are off the boat (back roll entrance) with a straight decent without lines, regularly with (sometimes strong) currents. In summer all's great: the visibility (50 to 100 feet or 15 to 30 meters) and temperature (up to 90+ °F or 32+ °C). In winter both drop: 65 °F (15 °C) is the temperature and a visibility as low as 20 feet or 6-7 meters…
Our dive sites…
The reefs of Cabo Pulmo…